"Cappel's has consistently provided a variety of fun and exciting decorations that enhance the experience of the Themed Dinners for our residents. Their pricing and delivery logistics exceed the competition. We are very pleased with their service."
Last year, Cappel's Party Supplies received a request from a large healthcare company that needed some help. Trilogy Health Services (THS) is a senior-living-community management group. They are currently responsible for 80 senior living communities conveniently located throughout 5 states in the Midwest. Each THS campus hosts four themed dinner events per year for its residents. The dinner guests include all of the THS senior living community residents.
During the summer they were planning a September event with a mystery theme that would occur on each of their campuses. THS was struggling to find an efficient way to organize similar activities within 78 participating nursing homes and care facilities. In the past, organizing these events took a great deal of time, effort, and money.
Locating event supplies, decorations, and costumes, often through multiple websites and vendors, was costly and time consuming.
Cappel's was able to solve many of Trilogy Health Services' problems and made these multi-location events much easier. Cappel's worked directly with the Purchasing Agent to provide top party supplies and decorations including themed decorations, stand-up cutouts, hats and other wearables as well as costume accessories such as Sherlock-Holmes-style pipe for the residents, and tableware.
Cappel's took care of the following:
* Provided a large variety of supplies – decorations, tableware, hats, prizes, etc.
* Scheduled on-time delivery to each campus
* Shipped each set of supplies to the appropriate location – 78 individual care facilities
* Coordinated and helped organize supplies
* Offered low-cost alternatives.
As a result of that initial, successful collaboration, Trilogy Health Services' purchasing officer has returned to Cappel's multiple times for their party needs. Recent dinner events Cappel's provided decorations for included one with a circus theme and another with a casino theme .
It has been a great pleasure to work with the THS team to provide community-building events and entertainment for their residents.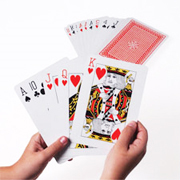 The feeling is mutual, as expressed by MaryGen Boley, Communications Specialist for Trilogy Health Services, "Cappel's has consistently provided a variety of fun and exciting decorations that enhance the experience of the Themed Dinners for our residents. Their pricing and delivery logistics exceed the competition. We are very pleased with their service."