What has happened to the simple rubber duck?  The humble friend of Sesame Street's Ernie has reinvented itself.  Once confined to the bathtub or festival duck pond, the rubber duck has gone through an identity crisis of sorts.  This little rubber creature has invented literally hundreds of iterations of himself.  Sounds like a personality defect to me!
But hey, it has really caught on.  People really love the little guy.  There are rubber duckies of almost every stripe; nerd ducks, ninja ducks, historical ducks, sumo wrestler ducks, super hero ducks.  You get the picture.  The little fellow even makes a guest appearance in rubber duck races across the US.  My hometown, Cincinnati, sponsors the Rubber Duck Regatta every Labor Day weekend.  Last year's race featured over 100,000 of the little floating creatures.  The event will be 20 years old this year, and has raised over $4.6 million dollars for the Freestore Foodbank here in Cincinnati.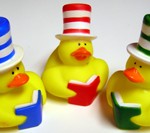 I guess the phenomenon is here to stay.
He's a harmless creature, so what's not to like?