I was taking a trip down memory lane the other day, remembering my daughter's 9th birthday party.  I had just started working for Cappel's and was almost overwhelmed with so many choices for a party theme.   I thought about a princess party with tiaras for all the girls.  I considered a circus party with so many bright colorful cutouts, polka dot hats,
and I thought the girls would like the idea of doing clown make-up for each other.    I briefly considered a magic theme, but realized I'd be the one who had to learn the magic tricks!   (Too much to do for that.)   It could have been a Jungle party with cute little monkeys, or even a luau party with pretty flower leis.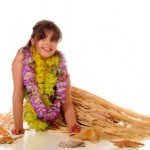 Well, I chose the luau theme.  I asked the girls to wear something "beachy" and told them they were bound to get wet.  I gave each one a Hawaiian flower lei and off we went to the back yard.  I had surrounded  our deck with raffia skirting and hanging palm trees, and had  Hawaiian centerpieces  on the tables.  They were thrilled when I gave each one of them a grass skirt to wear.  Of course they all tried to Hula dance, each one trying to out-do the other. We had a water balloon toss that had them giggling and we played several more games.    Towards the end of the party, we strung up a brightly colored pinata that everyone got to smack until it burst and all the candies came rushing out.  The girls were quick to pick up the goodies, filling their loot bags.
A good time was had by all, (especially my daughter), and I'm pretty sure those grass skirts and floral leis were kept as reminders of the great time they had that day.