Are you going to a Star Wars Premier or a Star-Wars-themed party? Would you like to be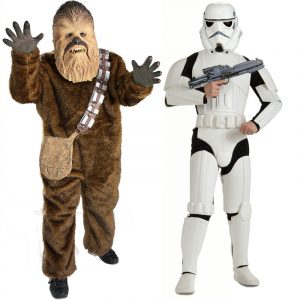 Chewbacca or a Stormtrooper? We have a costume for that.
Cappel's offers a realistic-looking, licensed Chewbacca costume. It includes:  a furry jumpsuit, latex mask, latex hands, and a latex bandolier with pouch. It is available in two adult sizes.
This year, it's been really interesting  to see the increase in nutcracker designs and stringed lights designs. Did you know there is a Star Wars collection of nutcrackers and lights? Just in time to give for Christmas 2015 or decorate for the premier of the new Star Wars movie, licensed Stormtrooper and Darth Vader  nutcrackers are available for purchase.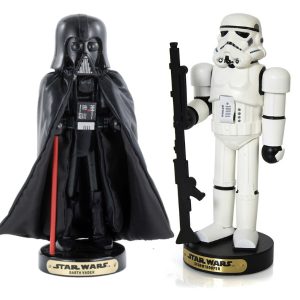 These nutcrackers are part of a collectible series of wooden nutcrackers. Whether you are a fan of Star Wars specifically or simply enjoy collecting nutcrackers, an 11″ wooden Star Wars Nutcracker is a great gift for Christmas, birthday, or anytime.
The wooden collectible nutcrackers stand about 11 inches tall and weigh about 1.7 pounds! This is a solid decoration for Christmas or a theme party anytime of year! Each design is licensed by Disney.
The wooden collectible nutcracker stands about 11 inches tall. The 11″ Wooden Nutcracker is sold with the box intact – perfect for collectors. The box features images of three of the Star Wars Nutcrackers: Yoda, Darth Vader, and Stormtrooper.
The Christmas light decorations are designed like either Yoda or R2D2. This is a ten light electric light set. It is suitable for indoor and outdoor use.
R2D2 and Yoda are must-haves Christmas light-up sets for that person in your life who a fan of Disney's Star Wars. Each official set is an authentic, licensed product.
Some facts:
Official licensed product
Indoor and outdoor use
120V AC 60Hz
Do not twist wire leads on light set bulbs or spare bulbs or these bulbs will not light
Ten light-up R2D2 figures
These don't just have to be Christmas lights. The lights lights look great as decorations for a themed party, in a child's room or as a Halloween Decoration.
Stop on by and get your Star Wars on!
In case you didn't see it yet, here's one of the latest previews: