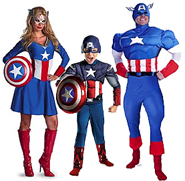 It seems like 2012 is the year of the Super Hero.  With the release of "Batman: The Dark Knight Rises" ,  "The Amazing Spider-Man" , and "The Avengers" there are plenty of opportunities to choose your role model.   It's not just the kids that are looking to dress the part.   Adults are definitely interested in assuming a second identity.  Perhaps the fascination with many of today's Super Heroes is the fact that many of them are just like
us, not perfect, which makes it more believable.
There are plenty of opportunities for the ladies to morph into Super Heroes as well.  My personal favorite is Wonder Woman.  A friend of ours gave his wife a Wonder Woman costume for Mother's Day this year.  She was a little embarrassed, but the kids loved it, especially her 8 year old daughter who already owned a matching costume.  What a nice complement from her husband!
For years kids have known the pleasure of being a Super Hero.  Now it can be a family affair!