Let's not dwell on gloom and doom
And be the adults in the room
This Valentine's Day,
Most sweethearts will say
Let's have our first date be via Zoom!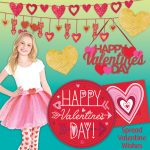 I get excited for Valentine's Day every year, even during COVID. The Feast of Saint Valentine is a fun celebration of love, so what's not to like? For me, it's a day of good things: good thoughts, cards, flowers, candy and a celebration of romance. I confess that it can be fun to read what the cynical people write about Valentine's Day as well. That's ok, Valentine's Day has always had some good with the bad. The day got its name because Roman emperor Claudius II executed two different men — both named Valentine — on February 14 and the Catholic church later named the day to celebrate their martyrdom. Popular movies celebrate both mafia murders and romantic comedies with similar success, showing that there is good and bad and we get to choose what to emphasize. For me, it will be love. I hope it will be for you as well.
It is rare when I find someone sexy, 
Makes me feel sublimely cachexy, 
     You seem to be one of those few. 
     So I guess that means you'll do. 
Just don't leave me with apoplexy.