Celebrate spring and enjoy the many benefits of a new floral arrangement in your office and home. These benefits could be the difference between a big sale, a more efficient workforce, a big idea, or increased relaxation, and can be accomplished for as little as $2.00.  At Cappel's Inc. we use our large selection of floral arrangements to promote not only fun, but also employee relaxation, increased productivity, and to add major design elements at a low cost.
At Cappel's although we love to party, we also know how important is to be able to relax. We want our employees to be relaxed so they can do their jobs effectively and efficiently! Seeing greenery and colorful flowers is very calming and can greatly improve someone's mood. Many studies have shown that an increase in an employee's mood, increases their productivity, and improves creativity. Can you imagine the financial impact on your business if you increased the productivity of all of your employees by just 5%? Wow!
First impressions go a long way! Adding a floral arrangement from Cappel's to your reception area or home entryway sends a welcoming message that is sure to leave a lasting positive impact on your guests. Why spend money on expensive furniture? When you can add many additional design elements to your home or office with artificial flowers that will do more, last longer, and for less!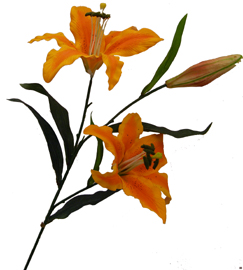 Many studies have shown the benefits of greenery. Floral pieces from Cappel's Inc. could be the difference between a big sale, an expensive piece of furniture, more efficient employees, or increased relaxation. Please enjoy our large floral selection online or at one of our 4 convenient Cincinnati locations.  For design questions, please contact us.
And for your Easter Pot Luck, check out these items available online or in store below: